The University of Florida supercomputer is a cluster that includes the latest generation of processors and offers nodes for memory-intensive computation. HiPerGator's high-performance storage systems can be accessed from diverse interfaces, including Globus and other tools.
UFIT Research Computing maintains the cluster and its many parts, allowing researchers to focus on their research instead of hardware and software maintenance. UFIT Research Computing supports supports a significant number of widely-used applications. Our staff is happy to evaluate and explore additional applications for UF's research needs.
HiPerGator 3.0 grew over a year of time, adding GPUs, storage and new processors. The GPUs went into production, the new Blue storage replaced the old /ufrc filesystem, and replacement processors went into production in January 2021.
HiPerGator Evolution
Phase
Year
Cores

RAM/core

HiPerGator 1.0
Retired
2013
16,000 AMD

4GB

HiPerGator 2.0
2015
30,000 Intel

4GB

HiPerGator 3.0
Jan 2021
30,720 AMD EPYC 7702 Rome
2.2 GHz Cores

8GB

HiPerGator 3.0
May 2021
9,600 AMD EPYC 75F3 Milan
3.3 GHz Cores

8GB
Total of 66,000 cores
544 NVIDIA GeForce RTX 2080TI GPU's
48 NVIDIA Quadro RTX 6000 GPU's
HiPerGator AI NVIDIA DGX A100 SuperPod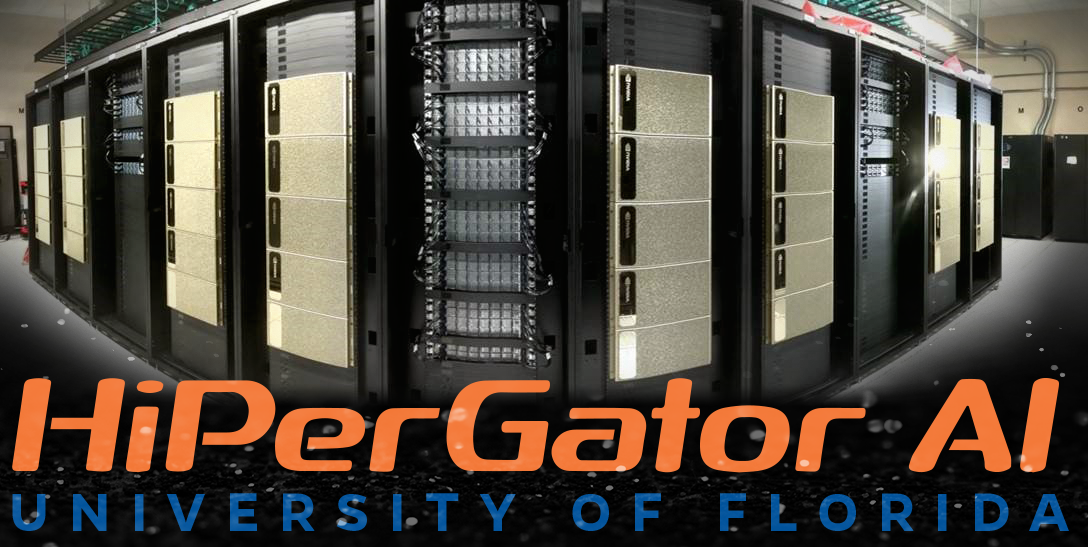 140 NVIDIA DGX A100 nodes
17,920 AMD Rome 7742 cores
1,120 NVIDIA Ampere A100 GPUs
2.5 PB All-Flash storage
Over 200 HDR Infiniband and various Ethernet switches for connectivity
Double precision LinPack (HPL): 13.75 Petaflops

TOP500 June 2021: #22
Green500 June 2021: #2

AI Floating Point Operations: 0.7 Exaflops
The latest NVIDIA GPU technology of the Ampere A100 GPU has arrived at UF in the form of two DGX A100 nodes each with 8 A100 GPUs. UF is the first university in the world to get to work with this technology. Visit the UF Artificial Intelligence Initiative website for more information.
The A100 technical specifications can be found at the NVIDIA A100 Website, in the DGX A100 User Guide, and at the NVIDIA Ampere developer blog.
For A100 benchmarking results, please see the HPCWire report.