Please note: To ensure access to network services (file shares, printers, etc.) is not disrupted, departmental and unit IT personnel must verify that these services are enabled to work with the new network environment.
UFNet2 is a more unified and flexible network architecture for the University of Florida that increases configurability of network access for faculty and staff while maintaining the highest standards in security and regulatory compliance. It is comprised of five distinct virtual network environments (vNEs):
Academic: Faculty/staff who participate in teaching and general research
Administrative: "Business of the university" staff and resources who deal with some sensitive data
Health: Those who work with protected health information
ScienceDMZ: Scientific machines and instruments which require high speed external connectivity or direct, unfettered access to Campus Research Network resources
External: Visitors to the university
The vNEs allow network access to be designated based on user and security roles, not hardwired to physical location, so faculty and staff in the same building may be on different networks according to their specific needs. This will allow research data to be shared more easily across campus for faster and more efficient collaboration.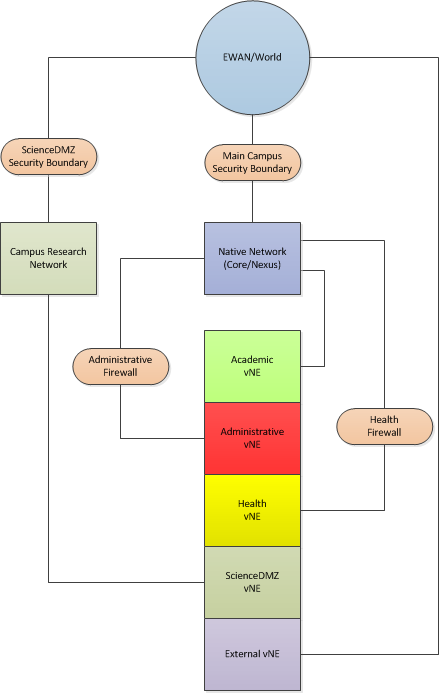 | | | | |
| --- | --- | --- | --- |
| Download the UFNet2 Vision for the virtual network environments. | The policy document sets the context for the UF network infrastructure. The governance structure is described in UFNet2 Governance. | To determine how UFNet2 can help your daily activities, read the UFNet2 Guidelines. The list of buildings shows when a particular building will be enabled. | The process to configure systems to correctly use UFNet2 efficiently and without trouble is outlined in UFNet2 Standards. |